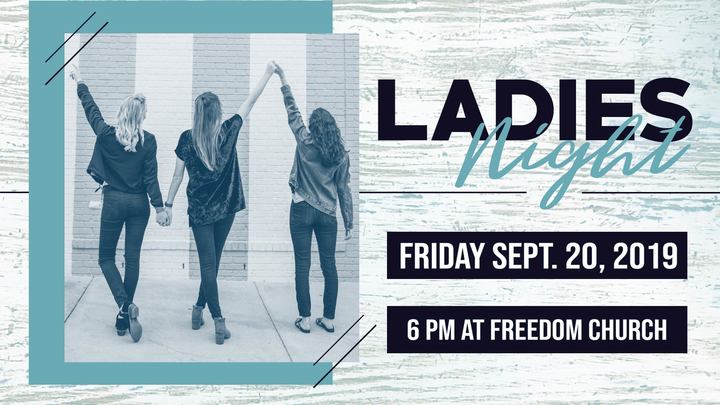 Dates & Times
Sep 20, 2019

6:00pm - 10:00pm
About Ladies Night
September 20, 2019
Freedom Church
2061 Indianapolis Avenue
Lebanon, IN 46052
Speakers
Ryan Vinson, Lead Pastor at Freedom Church
Sunshine Vinson, Freedom Church
Conference Schedule
Friday:
6:00pm Check-in & Dinner begins
7:00pm Session 1
8:00pm Break
8:15pm Session 2
9:00pm Coffee & Canvas
Frequently Asked Questions
What time should I arrive?
Check in and dinner begin at 6pm Friday evening.
Will childcare be provided?
Childcare will not be provided during the conference. Our hope is this will be a time for you to "get away" and be free from distraction so that you can fully engage with what God has to share with you.
Do I need to bring anything?
We encourage you to bring your Bible, a notebook and a sweater in case you get cold.
What is the attire for the conference?
Please come as you are! (We will be casually dressed)
Are there any extra fees, or does my registration cover everything?
Your registration covers everything! There will be dinner and snacks provided throughout the evening.
Do I have to register now, or can I register at the conference?
This conference is expected to meet capacity. To ensure a seat we highly encourage you to register as soon as possible.
Can I still come if I do not regularly attend Freedom Church?
Absolutely! Regular attendance is not required to attend this Women's Conference.
I've attended a Women's Conference in the past. Should I still come this year?
Most definitely! We encourage you to attend if you are a regular conference goer or if this is your first one. Each conference has different topics to be discussed and new relationships to be made.
What is the age range of attendees?
*Ladies over the age of 16 are welcome! There will be women from every age range that attend, so everyone should feel comfortable. *
Are refunds available if I am unable to attend?
Registrations are non-refundable. We thank you for understanding.
If you have any additional questions please do not hesitate to call Freedom Church at 765.482.7220 or email office@freedom-church.org. We look forward to seeing you soon!